Pastor's interview
Here is an interview of our pastor by a local newspaper.
http://waldo.villagesoup.com/p/life-experiences-shape-pastors-people-focused-ministry/1656227#
A journey of faith
Life experiences shape pastor's people-focused ministry
By Carolyn Zachary | Jun 02, 2017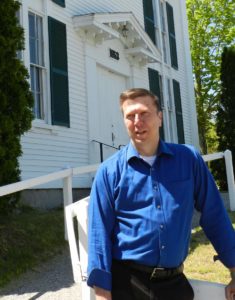 Photo by: Carolyn Zachary Pastor John Tabor in front of the 1853 Stockton Community Church May 30.
The Tabor family on the steps to the pulpit of Stockton Community Church May 30: Pastor John and wife Cindy with daughter Lauren, 7.
Enlarge…
STOCKTON SPRINGS — When the Rev. John Tabor was a boy of 8 or 9 living in St. Paul, Minnesota, his parents tried to show him, on a TV weather map, where they were moving to in Maine. But the weather map didn't picture states that far east.
"Oh, no," he remembers saying to a sibling, "they're moving us off the TV!"
Pastor of the Stockton Springs Community Church for the past year – his one-year anniversary is this month — Tabor grew up in Dyer Brook, in Aroostook County. Aside from his early childhood and a brief return to Minnesota for high school, he has lived almost all his life in Maine but admits, with humor that comes easily and often in his conversation, "I know, I'm still from 'away.'"
Called to the ministry, Tabor graduated from Elohim Bible Institute in Upstate New York and returned to Aroostook, where he met his wife Cindy. "She's a County girl," he said, "been a County girl all her life — from New Limerick, near Houlton."
But he couldn't find a congregation. "I was 24," he said, "and nobody wants a 24-year-old pastor. So I got involved in preaching at various churches, a jail ministry, nursing homes — but those don't pay the bills, so I worked at Louisiana Pacific in Houlton." The company makes engineered wood products — sheathing, siding, particle board.
Tabor worked in the LP mill almost five years. "That's when I got my first church — in Greenbush, just outside Lincoln," he said. "I pastored after that in Enfield, then Knox — at Knox Ridge Baptist Church for nine years." And then, in June 2016, the Tabors came to Stockton Springs. In sum he's been pastoring for 20 years.
"I'm really liking Stockton, the sense of community," Tabor said. "It's a great town. I walk out to the post office and I'm gone two hours because I chat with everyone along the way."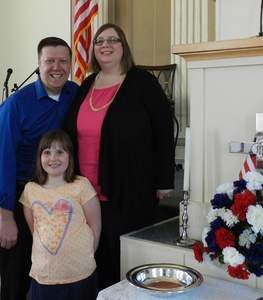 The Tabors have been married 28 years, and they have two daughters — the younger one, at home, is 7, while the elder one, 23, is a dairy farmer in Albion, with two youngsters of her own, a girl, almost 2, and a boy, 4 months.
He speaks matter-of-factly of the circumstances that created the 16-year age difference in the Tabors' two children. He calls it their "journey of faith."
"My wife and I were told we probably wouldn't be able to have kids," he said, "and my wife's first pregnancy was stillborn. Then the Lord blessed us with our 23-year-old. … Then, 10 or 11 years ago there was another still birth, and then eight years ago she got pregnant again – and that's the little one at home.
"I told the elder daughter, you had the energetic dad; I tell the younger one, you have the smarter dad."
His life experiences, Tabor says, help him in his ministry.
"It works out," he said. "I'm able to relate to families with grandchildren, older kids, younger ones — because I have grandkids and an older child, I can relate to folks in those stages of life.
"I'm all about the people; I really enjoy people, ministering to people, and having a foot in both worlds really helps me relate to the things people are going through now."
Tabor describes Stockton Springs Community Church as a true community church, "probably more Baptistic in doctrine, but independent, just trying to serve the community. I preach to the Bible, not denominations."
"I like to say we're ordinary people serving an extraordinary God," he said. "We're real people, not real stuffy. My real desire is to reach out to community, especially families, that's where my heart's at, and we have programs for kids, things for seniors. We meet people where they're at."
The Sunday service at 10 a.m. regularly draws about 50 people, Tabor said, and both children and adults are welcome to attend Sunday School preceding the service at 9 a.m. During the service, children exit at sermon time for a special program designed for them.
"The church is very active," he said. "We have a senior lunch open to all, and a Ladies Fellowship. We try to be very active as far as fellowship goes."
In 2013, the historic Stockton Springs Community Church, which opened in 1853, made headlines when it got a new steeple, thanks to a six-year effort by six determined women, aged 72 to 91. With yard sales, auctions, suppers and bake sales, the Steeple Ladies raised over a quarter million dollars to replace the church's rotted spire.
"I heard these ladies made the best pies in the world," Tabor said, "and I like pie, so I threw out a feeler. But they said 'No, we're never going to make another pie again!'"
More information about Stockton Springs Community Church can be found online at stocktonspringschurch.com, or by calling Pastor Tabor at 567-7722 or emailing him at revjtabor@gmail.com.